Find the Adventure of a lifetime
Top destinations in Turkey
Trabzon / Black Sea Coast
Founded by Greek traders from Miletus in the 8th century BC, Trabzon has been handballed down the years between Cimmerians, Medes, Hellenes, Byzantines and a succession of other peoples. Once an important stop on the Silk Road, it remains the Black Sea's busiest port. Somewhat louche, it's the most sophisticated city in the region, too caught up in its own whirl of activity to worry about what's happening in far-off İstanbul or Ankara.
Contrasting with the medieval church (now mosque) of Aya Sofya, and the one-time Byzantine monastery at nearby Sumela, the modern world shines through on Atatürk Alanı, Trabzon's busy main square in the eastern section of the city centre. Indeed, the exotic city Rose Macaulay described in The Towers of Trebizond (1956) is very much a distant memory now.
The tourism hub of the Kaçkars, this formerly bucolic yayla (mountain pasture) village has become a highly popular tour stop, welcoming coach-loads of Saudi Arabians, Iranians and Georgians as well as Turks; from spring to autumn it's not a place to escape from other travellers. That said, Ayder has a gorgeous setting at around 1300m altitude in a verdant, waterfall-ribboned valley, and the broadest range of accommodation in the Kaçkars. The village straggles more than 2km from west to east up the valley, and the Kaçkar Dağları Milli Parkı (Kaçkar Mountains National Park) is nearby.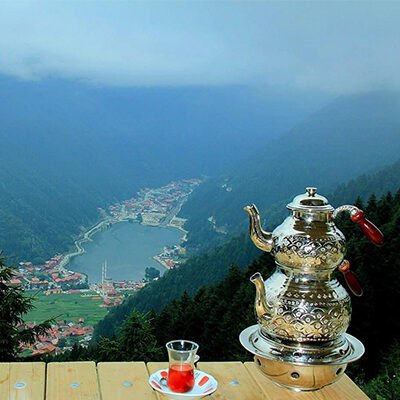 With its lakeside mosque and forested mountains that recall Switzerland, the 'hidden valley' of Uzungöl (Long Lake) remains idyllic, but be prepared for more than a few tacky hotels. There are currently over 2000 rooms here, catering to a growing number of visitors from the Gulf States. A flurry of recent development, including a retaining wall against the lake, makes it feel a little artificial compared with much of the Kaçkars further east, but it makes a good base for hikes in the Soğanlı Mountains and to the tiny lakes around Demirkapı in the Haldizen Mountains. Summer weekends get very busy, so try to visit during the week.
In the heart of Turkey's picturesque tea-growing area, Rize is a modern city centred on a pair of very contrasting squares, one a very pretty little park, the other a soulless expanse of unshaded stone. Directly behind the centre, verdant slopes rise extremely steeply in eccentric hillocks that are lavishly planted with tea bushes. As you'll see from all the giant photos, Rizeans are proud of local-boy-turned-prime-minister Recep Tayyip Erdoğan, who grew up here and now has a university named after him.
Backed by a steep amphitheatre of green mountains, the sprawling but mostly low-rise city of Ordu is a prosperous, appealing place unmatched as the world's hazelnut capital. The curl of seafront has a long, attractive stretch of parkland promenade, though the brown sand is used for quad-bike experiences more than swimming. Behind, a grid of narrow central shopping lanes have been mostly pedestrianised around the central square whose 1889 stone minaret is overshadowed by the soaring tower of a cable car. Riding that offers fascinating glimpses down onto the mass of tiled rooftops and the nut orchards of Boztepe. Away from the centre, lanes become more winding and village-like and, especially as you climb northwest into the Taşbaşı area, there is a good scattering of historic houses. Some have been converted to boutique hotels with splendid views across the bay.
What the sprawling port city of Samsun lacks in looks, it makes up for with memories of its 1919 role in sparking the Turkish independnce struggle and with straight-faced evocations of its supposed (if essentially invented) link with the Amazon women warriors of Greek myth. There's not much in the way of historical architecture, but you could admire a few semi-grand older buildings by wandering up Kazımpaşa Caddesi (nicknamed 'Bank Street') to Büyük Cami, the central grand mosque, behind which is an old clock tower and, undergoing a major restoration, a large classic bathhouse complex. The many coastal parks are also a joy for casual strolling.
Safranbolu / Central Anatolia
Safranbolu's old town, known as Çarşı, is a vision of red-tiled roofs and meandering alleys chock-a-block full of candy stores and cobblers. Having first found fame with traders as an isolated source of the precious spice saffron, Safranbolu now attracts people seeking to recapture the heady scent of yesteryear within the muddle of timber-framed mansions now converted into quirky boutique hotels. Spending the night here is all about soaking up the enchanting Ottoman scene – all creaky wooden floors, exuberantly carved ceilings and traditional cupboard-bathrooms. A day at the old hamam or browsing the market shops and revelling in the cobblestone quaintness is about as strenuous as it gets, but if history begins to feel a bit like old news, then hiking in the wondrous Yenice Forest nearby, remapped and rediscovered, will show you exactly why Unesco stamped this region as a World Heritage site in 1994.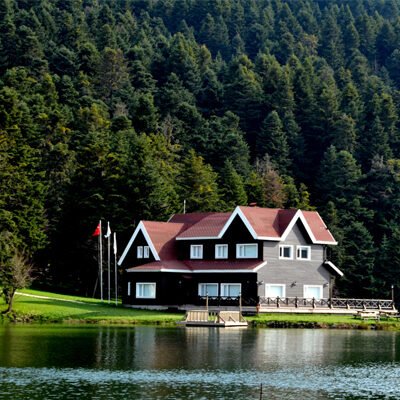 Heralded as the world's largest water buffalo market, this dusty, chaotic scene pops off every Tuesday and Saturday when stately beasts imported from around the world are put on display. Some of these animals cost more than a small car. Most are destined for slaughter at funeral ceremonies. There's also a swift trade in pigs and roosters, and the more traditional market nearby is a social feast for the senses. Mornings are the best time to visit.
Lake Abant is a beautiful freshwater lake in Turkey's Bolu province that has become a popular weekend destination where visitors can take some much-needed time off and immerse in nature. From long walks to horse back riding, there's plenty to do at this beautiful lake and its natural surroundings. Here's how to spend a relaxing weekend in this beautiful place.
Formed due a great landslide, the large and peaceful Lake Abant is surrounded by dense forests composed of many tree varieties including European black pine, hornbeams, hazels, pine, and oaks. With such plant life blooming and changing color throughout the seasons, it's also no surprise that a lot of wild animals call the area their home. From roe deer to brown bears, red foxes to rabbits, and the Abant trout (which isn't found anywhere else) Lake Abant is a true nature park where the elements grow and roam freely. There are plenty of guesthouses in the nearby small town of Mudurnu, but the five star Büyük Abant Hotel right by the water, is the definitely the most popular preference.
Akçakoca is the only tourism center that can receive a blue flag on the Black Sea coast. 28 km. There are many sandy beaches along the coast. There are sea side by side, and in some places sea coasts formed by the imposing waves of the Black Sea. The highest of these is the Soyat Seaside between Ceneviz Castle and Değirmenağzı and at a height of 30m. Akçakoca, except the Sea-Sand-Sun axis; diving enthusiasts, enthusiasts who want to surf, sailing to open the blue world of the sea and angling offers alternatives for those who are interested in fishing.
Duzce; Prusias and Konuralp Bey, one of the ancient cities of the Western Black Sea, have extraordinary natural beauties as well. With its plateaus, lakes, rivers and 28 kilometers of coastline to the Black Sea, it is a suitable city for all types of tourism.
Duzce is one of the rare cities where cultural diversity meets natural beauties. The Konuralp Museum in Konuralp, which features the collections of statues, ceramics, coins and ethnographic artifacts showing the characteristics of the civilizations that reigned in the region in the historical process, has 1,821 archaeological works, 488 ethnographic works and 3,898 coins, totaling 6,207 historical artifacts. There. There are 216 immovable cultural and natural assets and 28 archaeological sites in our province.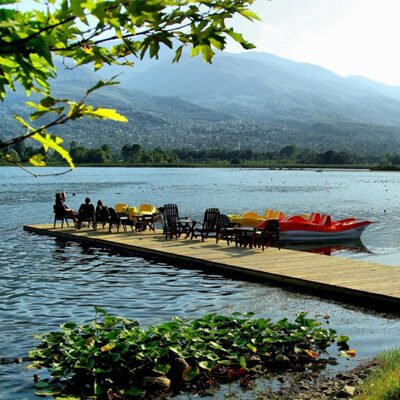 Sapanca: A corner of paradise resounding with the peaceful sounds of nature and one of Istanbul's popular getaways, Sapanca reveals different scenic views in any season
The tour will end at about 5 pm.
Within the Sakarya province in the Marmara Region, Sapanca is built around a terrific lake and surrounded by lush forests.
A natural heritage with a history dating back to 1200 BC, Sapanca is an unforgettable resort with sunny summers and snow-white winters.
Start planning your vacation right now if you want to get acquainted with this impressive and magnificently unique region resembling the most beautiful landscape portrait.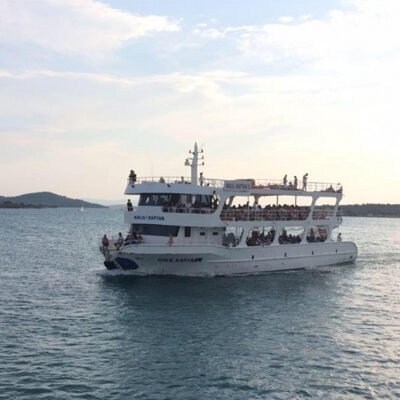 Sakarya city is an important tourism center in the Marmara Region. First of all beaches lies along Black Sea shores, lakes, rich forests and plateaus, valley and canyons, hot springs and mineral waters springs are natural values that Sakarya has. It has borders with the cities; Kocaeli on the west, Bilecik on the south, Bolu on It has borders with the cities; Kocaeli on the west, Bilecik on the south, Bolu on the southeast and Düzce on the east.
The Sakarya's climate shows characteristics between the Marmara Region Climate and the Black Sea Region Climate. Therefore winters are much rainy and less cold, while summers are hot.
Pick up from the hotel and join the group. Drive to Masukiye located 120km far away from Istanbul. Masukiye is well known for its nature and green forests. We will spend some free time in Masukiye. For guest who wishes to join the activities, Optional Zipline and Optional ATV Ride are available in Masukiye, ATV Rides are the best way to discover the green nature of Masukiye.
Before driving for lunch, we will have stops in local stores to taste the regional honey produced in Sapanca and regional produced Turkish Delight.
After our lunch, we will visit Ormania Natural Habitat Park and Zoo (Between March – November). Ormania Zoo is replaced with Kartepe Snow Resort during the winter season (between December – February) to enjoy snow games.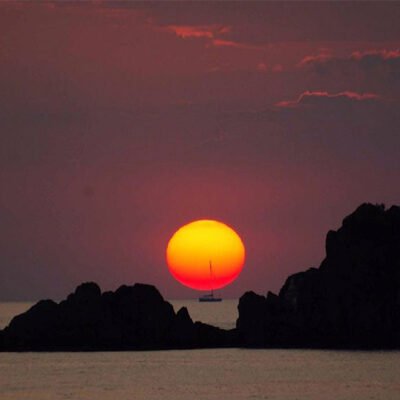 Izmit located in Marmara Region of Turkey is one of the most popular and important center of Turkey with it's specific and strategical location between Asia and Europe, transportation convenience / options, natural harbors and ports, with it's green large forests and with the clothe distance to Istanbul Metropolis and with it's growing and improving industry especially late 1960 which made the city a very important spot of Anatolia
The touristic activities and trips held in the area are quite rich, the city provides great opportunities and available racecourses for trekking, hunting, horsemanship, nature walking with horses, mountaineering, camping, caravan and bicycle tours are available for the visitor tourist as well as, sportive fishing, scuba diving, water skiing, yachting and yacht tours / tourism , sailing and paragliding and provides opportunities for many other sea sports.
Industrial sprawl makes a mockery of its moniker 'Yeşil Bursa' ('Green Bursa'), but the big city bustle doesn't detract from Bursa's historic allure. Awarded Unesco World Heritage status in 2014 for being the birthplace of the Ottoman Empire, the city is built around the mosques, mausoleums and monuments from its grand epoch as Ottoman capital. After admiring architectural finery and getting lost amid the push and shove of the bazaar crowds, it's time to partake in Bursa's culinary contribution to the world. This is the home of İskender kebap (or Bursa kebap; döner kebap on fresh pide topped with tomato sauce and browned butter) and trust us, you haven't tasted how good it can be until you've had the real deal here. Afterwards, balance out the butter-soaked decadence with some fresh air and a zoom up to Uludağ (Turkey's premier ski resort) on the world's longest cable car.
Yalova has a few tourist attractions, including the Yürüyen Köşk, an Ottoman-Turkish style mansion that was used by Atatürk, the founder of the modern Turkey, during his visits to the city. This mansion has a legend connected to it. It is often referred to as the 'walking house' because, as the legend goes, Atatürk believed the mansion was too close to a beautiful tree, so he ordered the mansion to walk. The house did just that, and moved 3 km down the waterfront to its current resting place (of course, with the help of rail system built underneath the building)
Termal is a beautiful area in the hills outside of Yalova (minibuses head there from the city for 2.50 TL). There are (as the name suggests) thermal hotsprings here—accompanied by hammams, a large public swimming pool and hotels galore. Many 3 and 4 star hotels have opened in Termal city, and there are a number of restaurants that cater to the tourists who flock there in the summer. Among these are a number of Arab restaurants, where you can find some of the only falafels in the province.
Yalova also has a beautiful set of waterfalls–the "Falling Water Waterfall", Su Düşen Şelalesi. To get here, take a mini-bus from Yalova city center to the village Uvezpinar. Then hire a taxi to drive you the 7 km to the waterfall site. Though beautiful, it is a very rigorous hike from the village to the falls. Another attraction is the Karaca Arboretum on the way to Termal.
With its massive university population, Eskişehir is one of Turkey's liveliest and youthful cities. An oasis of liberalism in austere middle Anatolia, its progressive spirit is associated with mayor Yılmaz Büyükerşen who realised the potential of the city's Porsuk River, adding walking bridges and a sand beach while building pedestrian thoroughfares and a smoothly efficient tram system. In summer you can even explore the Porsuk by gondola or boat.
The cumulative result is a liveable city with a roaring nightlife, thriving coffee scene, plenty of green spaces and a small old quarter. To be fair, as far as sights go there isn't a lot to see, though the 2019 opening of the Odunpazarı Modern Museum has now marked Eskişehir as a must-do destination for contemporary art. And if you've been travelling in Turkey for a while and are desperately in need of a flat white, don't miss a stop here.
İzmir / is monumental history
Turkey's third-largest city is proudly liberal and deeply cultured. Garlanded around the azure-blue Bay of İzmir, it has been an important Aegean port since ancient times, when it was the Greek city of Smyrna, and its seafront kordon (promenade) is as fetching and lively as any in the world.
The city's rich and fascinating heritage reflects the fact that it has been the home of Greeks, Armenians, Jews, Levantines and Turks over the centuries. While not as multicultural these days, it still has resident Jewish and Levantine communities and its unique and delicious cuisine attests to this.
Foreign visitors here are largely limited to business travellers and tourists en route to Ephesus. The reason for this is a mystery to us, as the city is home to compelling attractions including one of Turkey's most fascinating bazaars, an impressive museum of history and art, and a local lifestyle as laid-back as it is welcoming.
Unlike many resort towns in this region, Çeşme has retained a local population and flavour. Only 8km from the Greek island of Chios (Sakız), the town has a long seafront perfect for promenading, a magnificent castle built by the Genoese and a bustling merkez (commercial centre) with plenty of shops and cheap eateries. Popular with weekending İzmiris and with those who balk at the high prices and style overload at nearby Alaçatı, it's an excellent base for exploring the region.
A mere two decades ago this rather unassuming erstwhile Greek village some 10km southeast of Çeşme was known predominantly for its excellent olive oil and world-class windsurfing. But thanks to some forward-thinking hoteliers, who transformed many of its dilapidated taş evleri (stone houses) into high-end boutique accommodation, Alaçatı has become one of Turkey's hottest destinations for the free-spending middle class. A walk along Kemalpaşa Caddesi in Merkez (the centre) showcases the town's main attractions: world-class boutique hotels, restaurants specialising in Aegean cuisine, sleek cafes and high-end boutiques catering to glamour pusses of both sexes. In the high season (May to September), it's a crowded, often-chaotic and always-chic place to spend a few days.
Home to two of the seven Ancient Wonders of the World, civilisation on Turkey's idyllic Aegean coast looks back thousands of years. The region's embarrassment of ruins include majestic Ephesus, the celebrated capital of Roman Asia Minor, while nearby, the ancient ports of Priene and Miletus, and temples at Euromos and Didyma offer an evocative picture of the past.
Marmaris / is views across the water
A popular resort town that swells to over a quarter-million people during summer, Marmaris is loud, brash and in your face all over town all of the time. It's one of the few places along the coast where you might leave feeling more stressed out than when you arrived.
That said, if it's a last night out, a gület cruise along the coast or a ferry to Greece you're after, then this tourist haven is pretty much the full Monty. Bar St offers unparalleled decadence, while from the kordon (seafront), charter-boat touts will whisk you eastward to Fethiye and beyond. Marmaris boasts a pretty harbour, crowned by a castle and lined with wood-hulled yachts and the vessels of visiting sailors. And it even has history. It was from here that Britain's Admiral Horatio Nelson organised his fleet for the attack on the French at Abukir in northern Egypt in 1798.
Fethiye / is a fascinating yacht-watching spot
In 1958 an earthquake levelled the seaside city of Fethiye (feh-tee-yeh), sparing only the remains of the ancient city of Telmessos. More than half a century on, it is once again a prosperous hub of the western Mediterranean, and a major base for gület (Turkish yacht) cruises. Despite its booming growth, Fethiye is low-key for its size, due mostly to restrictions on high-rise buildings and the transitory nature of the gület business, which brings travellers flocking here between April and October.
Fethiye's natural harbour is perhaps the region's finest, tucked into the southern reaches of a broad bay scattered with pretty islands, including Şövalye Adası, glimpsed briefly in the James Bond film Skyfall. Fethiye also makes a good base for visiting Ölüdeniz, one of Turkey's seaside hot-spots, and many interesting sites in the surrounding countryside, including the ghost town of Kayaköy (also called Karmylassos or Levissi) just over the hill.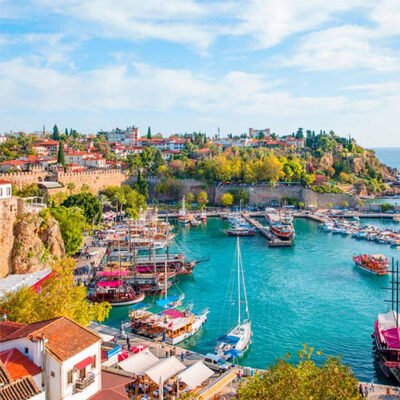 Antalya / is finding the perfect sunset
Once seen simply as the gateway to the Turkish Riviera, Antalya today is very much a destination in its own right. Situated right on the Gulf of Antalya (Antalya Körfezi), the largest city on Turkey's western Mediterranean coastline is both classically beautiful and stylishly modern. At its core is the wonderfully preserved old-city district of Kaleiçi (literally 'within the castle'), which offers atmospheric accommodation in the finely restored Ottoman houses on its winding lanes. The old city wraps around a splendid Roman-era harbour with clifftop views of hazy-blue mountain silhouettes that are worth raising a toast to. Just outside of the central city are two beaches and one of Turkey's finest museums.
Cappadocia / is like landing on another planet
As if plucked from a whimsical fairytale and set down upon the stark Anatolian plains, Cappadocia is a geological oddity of honeycombed hills and towering boulders of otherworldly beauty. The fantastical topography is matched by the human history here. People have long utilised the region's soft stone, seeking shelter underground and leaving the countryside scattered with fascinating cavern architecture. The fresco-adorned rock-cut churches of Göreme Open-Air Museum and the subterranean refuges of Derinkuyu and Kaymaklı are the most famous sights, while simply bedding down in one of Cappadocia's cave hotels is an experience in 21st-century cave living.
Ankara / is fabled past and prosperous future
Turkey's 'other' city may not have showy Ottoman palaces or regal facades, but Ankara thrums to a vivacious, youthful beat unmarred by the tug of history. Drawing comparisons with İstanbul is pointless – the flat, modest surroundings are hardly the stuff of national poetry – but the civic success of this dynamic city is assured thanks to student panache and foreign-embassy intrigue.
The country's capital has made remarkable progress from a dusty Anatolian backwater to today's sophisticated arena for international affairs. Turkey's economic success is reflected in the booming restaurant scene around Kavaklıdere and the ripped-jean politik of Kızılay's sidewalk cafes, frequented by hip students, old-timers and businessmen alike. And while the vibrant street life is enough of a reason to visit, Ankara also boasts two extraordinary monuments central to the Turkish story – the beautifully conceived Museum of Anatolian Civilisations and the Anıt Kabir, a colossal tribute to Atatürk, modern Turkey's founder.
Mixing Seljuk tombs, mosques and modern developments, Kayseri is both Turkey's most Islamic city after Konya and one of the economic powerhouses nicknamed the 'Anatolian tigers'. Most travellers whizz through town on their way from the airport to Cappadocia's villages, only seeing the shabby high-rises and ugly industrial factories on Kayseri's outskirts. The city centre of this Turkish boom town, though, is full of surprises. An afternoon pottering within the narrow bazaar streets and poking about the Seljuk and Ottoman monuments – all loomed over by mighty Erciyes Dağı (Mt Erciyes) – is an interesting contrast to exploring the more famous fairy-chimney vistas to the city's west.
Yuvacik is a natural area of ​​25 square kilometers located at the eastern end of the İzmit bay. Forest areas, rich water resources make Yuvacik resort special and valuable. This region has been a place where Armenians lived for many years; it has gained diversity with the migrations it has received over time. Both the Caucasus and the Black Sea have received intense immigration, and today the majority of the population are people from Rize. If you are looking for a place to find the peace and if you don't want to go too far, Yuvacik can be a great choice. What you can do here is pretty much, trekking, of course, comes to mind first. In addition, ATV, Jeep safari and Paintball will be the other activities that come to mind.
With mountain strawberries, cabbage gardens, highland houses and hazelnut groves, you will love spending time in Yuvacik which will give you a small Black Sea tour. Having a picnic here is a must. Let's not forget that a great Bazaar is established here, called Yuvacik Bazaar. Here you can find the products of the peasants themselves, you can encounter many flavors such as jams. Therefore, the right address for shopping here will be Yuvacik Bazaar. Beşkayalar Nature Park is one of the stops to be seen here. As one of Turkey's rich flora and fauna, it is quite interesting. We're talking about an area of ​​1600 hectares.
On the other hand, the Violet highlands will be the right address for fresh air, which is suitable for cycling. You can camp here, be interested in outdoor sports and travel around freely. Aytepe, will be one of the stops that will make you feel good. We're talking about walking trails and amazing landscapes that make you feel perfect. You can also visit Yuvacık Dam to complete your trip in the region. It was built on the Kirazdere tea and has the name Kirazdere Dam, but it is a habit naming it the Yuvacik Dam, which will allow you to see beautiful landscapes. That's why you can see the greatness of nature with dam lands and end your journey in this way. If you set off early in the morning, you can have breakfast in one of the many wonderful places around the dam, and you can make a great start to the day.

ATABEYOGULLARI TOUR operates as an inbound tour company and provides Turkey tours, İstanbul tours, Bursa tours and Antalya tours, hotels, vacation and travel packages, blue voyage as well as airport transfers and car rental services around Turkey. Thanks to its intellectual and experienced guides the company is capable to provide its costumes with historical and cognitive and other types of tours..